Winter in Los Angeles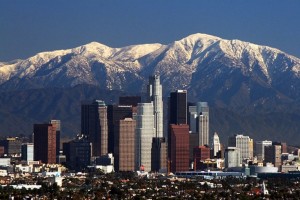 We are now deeply into winter, aren't we? For those of us here in Southern California, it means we're able to drive an hour in one direction up to the nearby mountains and go skiing, sledding, and snowball fighting. It also means we can drive an hour in the other direction and sit out in the high desert under cobalt blue skies, then take a dip in a nearby hot mineral spring pool to stay warm. Or drive in still yet another direction and be at the beach, where you may or may not need to wear a sweater or jacket on the sand. Pretty amazing, isn't it? Something I haven't still gotten over, even after living here for 17 years.
My first winter in Los Angeles I remember driving up to the mountains with friends. We piled snow on the roof of the car then drove down to the beach with it. We then parked on the sand, and while drinking an ice cold beer we watched it melt in the afternoon sun. We took lots of pictures with us posing by the snow covered car in our bikini tops and sunglasses. Life is good here on the edge of the continent, isn't it?
Whenever the ungodly traffic, rude strangers, bad air, and other high costs of living in LA start to make me crazy, I find I'm able to calm down about it all a bit, by focusing on the bountiful aspect of nature that surrounds us here. It's a cliché, but nature does heal – it calms and soothes in a way that nothing else can.
I spent some time once, in the late 1980's, studying Native American shamanism with several teachers. One of the cornerstone's of that spiritual path is the guidance we must be open to receive from Nature in all its forms — from plant life, rocks, animals, to the wind, bodies of water – if we are to evolve our thinking about ourselves and our place in the cosmos.
Here's a poem by Mary Oliver – a very gifted poetess and high priestess of communing with Nature herself. (PS: You will get many chances to read Mary Oliver's poems in this blog as she is one of my favorites. Look her up – you'll love her, too)

The Swan
by Mary Oliver
Did you too see it, drifting, all night, on the black river?
Did you see it in the morning, rising into the silvery air –
An armful of white blossoms,
A perfect commotion of silk and linen as it leaned
into the bondage of its wings; a snowbank, a bank of lilies,
Biting the air with its black beak?
Did you hear it, fluting and whistling
A shrill dark music – like the rain pelting the trees – like a waterfall
Knifing down the black ledges?
And did you see it, finally, just under the clouds –
A white cross Streaming across the sky, its feet
Like black leaves, its wings Like the stretching light of the river?
And did you feel it, in your heart, how it pertained to everything?
And have you too finally figured out what beauty is for? And have you changed your life?