How To Go Green For Your Child's Birthday Party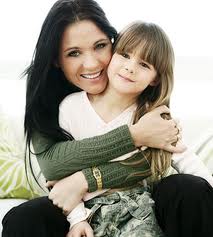 Whirling dervishes we mothers are:  at any one time juggling dozens of things on our to do list, staying on top of everyone's schedules, keeping the household running, squeezing in exercise time (!), a few hours sleep – and oh yeah, doing what we have to do to bring in a paycheck.  So when it comes time to pull together the details our children's birthday parties, most of the time, we take the path of what's super time-saving and convenient.  But by ramming our shopping carts through the crowds at the big box stores or discount warehouses, and scooping cheap stuff off the shelves, can add up to a mountain of leftover garbage that we quickly toss into the nearest trash can.   With just a little foresight and awareness, we can see how important our individual acts of conscious planning can add up to a very big contribution in Earth saving action.  One party that you try to do differently, can ingrain habits that you can easily tap into for the next party – and before long, you've made a lifestyle change for your whole family, year in and year out – birthday to birthday.
Tips To Go Green For Your Child's Birthday Party
For the invitations: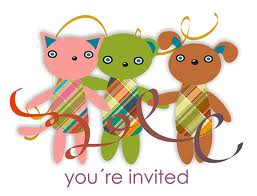 Go paperless:  use online services such as Evite.

Try purchasing invitations on 100% recycled paper printed with nontoxic ink (

www.urbanicdesigns.com

).
Botanical Paperworks creates paper that is seeded with wildflowers (

www.botanicalpaperworks.com

).  It comes in a variety of colors suitable for both boys and girls, and is compatible with most ink-jet printers.  Have guests bring the invites to the party and plant them in little ceramic pots.  Painting the pots (with non-toxic kid friendly paints) at the party can be a great craft activity, and becomes a wonderful party favor that lives on long after the party is over.
My favorite paper (you'll love this one!):  Mr. Ellie Pooh's paper products are 100% recycled.  They are made up of 75% elephant dung (!), and 25% post consumer paper.  They are handmade, acid free and as organic as it gets.  The paper is unbelievably soft and lovely.

(www.mrelliepooh.com).

Use it for custom invitations, make sure and use soy or other nontoxic ink.

Use your invitations to encourage guests to package all gifts in reusable bags or baskets.
For the party:
Choose food that is nutritious, and seasonal or locally grown.  The other parents will love that there is something to take the edge off the high sugar doses that also come with a party.  Bright, cheerful cut up veggies and fruit platters can be great for children of all ages (bell peppers in all colors, tomatoes, sugar snap peas, carrots, broccoli florets, berries, apples, orange slices).  Avoid single cheese sticks wrapped in plastic – instead, cut up a big block of mild cheddar into little bite-sized cubes.  Break o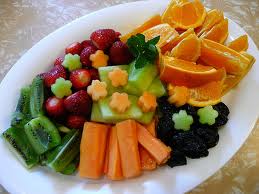 ut big bags of pretzels and bowls of peanut butter to dip them in.  Offer whole wheat mini bagels and cream cheese.
Check out Clare Crespo's wonderful book

Secret Life of Food

for recipes and instructions on how to make hip and colorful concoctions out of common table foods, to serve at the birthday party.  As a party activity it can't be beat; that you can eat what you make: double fun.

Try ordering the cake or cupcakes from an organic bakery.   If you have time, do the baking yourself using organic ingredients.  Your older children will love to help make their own treats, so it's an ideal way to begin bringing them into the kitchen.

Choose washable, fabric table covers instead of vinyl or disposable plastic.

Choose earth friendly tableware (plates, cutlery, cups) rather than new, disposable plastic: Gaiam's 100% biodegradable, compostable partyware

(www.gaiam.com

) or Preserve's 100% recycled plastic tableware (

www.recycline.com)

are excellent.   Preserve products are dishwasher safe and can be re-used.  Trader Joes, and Target stock Preserve; Whole Foods stocks Gaiam and Preserve.  Better yet, shop garage sales and swap meets to create a collection of old, mismatched tableware (cutlery, plates, cups) that can be brought out not just for your child's birthday parties, but for every potluck, picnic and backyard bar-b-q you will host over the years.  With every piece unique and different, it's easier for your guests to remember which is theirs!

Avoid single use plastic water bottles, juice boxes and juice pouches. Try pouring out of water pitchers that you fill from your filtered tap water.  If you are out in a park, away from home, invest in large water jugs.  (You'll be able to use them for all your outdoor gatherings indefinitely, just as you do your collection of old tableware.)  Juice boxes are lined with a petroleum-based wax and are not recyclable. Pouches are made of unrecyclable plastic.   Instead, pour out of a big juice bottle into individual cups.

Avoid buying balloons and paper decorations such as streamers or bells every year in a different theme.  This is the epitome of creating post-consumer waste.  Try to choose supplies that can be used for several years in a row, then when they have reached their ending with you, donate them to a homeless shelter, rec center or day care center which serve low income neighborhoods.  The best choice is to enlist your child to help you make your own decorations out of repurposed paper, fabric, and found items from around your house and in your child's room (one year we took all the miniature stuffies, toys and dolls that seem to collect in the bottom of my daughter's toy chests and drawers, and strung them on a brightly colored cord.  We then hung from the trees over our party area in the park.   Afterward, we donated them to the local day care center).

Be sure and set up trash containers that separate out the recyclables at your party.
For the gifts: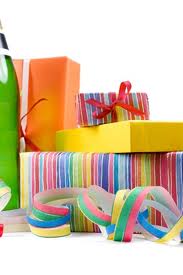 Encourage your guests to give books, art supplies, or gift certificates (for museum visits, music or dance lessons, roller or ice skating rinks, or other activities), instead of plastic toys, batteries, and excess packaging.

Better yet, if you feel you child simply doesn't need more "stuff", pick an environmental non-profit and ask for donations in lieu of gifts.  The Natural Resources Defense Council will send a beautiful e-card with photos of wildlife on them for gifts in honor of a birthday.  (

nrdc.org).
Every child deserves to have the gift of knowing when he or she is older, that the celebration of his or her life on the planet, was also a gentle celebration of the planet, too.  Happy Birthday to one and all!
Randi Ragan is the owner and founder of GreenBliss EcoSpa, Los Angeles' award-winning eco-friendly mobile spa and wellness service.   Among its many offerings, GreenBliss has an eco-friendly children's spa party experience  (for girls ages 6 – 16) which features non-toxic nail polishing, fruity face masks, aromatherapy chair massages, hair styling with fresh flowers, and a craft activity making essential oil scented bubble bath.  Party favors include handcrafted soaps, organic lip balms, bamboo flip flops, and much more.