Boring Bathroom Makeover Into A Spa-riffic Sanctuary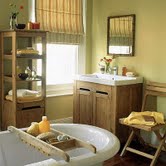 Everyone needs a sanctuary from the rigors of modern life, but not everyone can remodel their home and spend a fortune doing it.  Here are inexpensive solutions for creating your own eco-oasis of spa pampering.  Watch those worry lines disappear and feel the tension draining from your shoulders in no time.
Conscious color :  Choose low or non-VOC (non toxic) paints.  If painting a color, choose blues, greens (cool colors promote calmness and serenity) and avoid hot colors (bright yellow, orange, red); however,  if you love these colors, then temper them with their cool opposite on the color wheel.  Color effects mood.  The white color palette is always the default best for a spa feel:  there are undertones from blue to yellow to pink, that give whites interest and depth.
Lighting:  natural light –from skylights and windows is best, but for privacy purposes, use white or natural color fabrics coverings on the widows; another option is natural fiber Roman shades or wooden plantation shutters.
Textures: organic cottons and bamboos – have variety that you can see and touch – from mats to shower curtains (avoid plastic) to wall hangings, window shades – avoid anything artificial (polyester or plastic).  Natural grasses and other fibers (linen, hemp, and wood) evoke a sublime "spa vibe" .
Linens and Laundry: I like white because of its association with fresh, clean, and pure.  Nothing says "spa" like a fluffy white robe hanging on a hook with some mathing slippers parked underneath.  Try to buy the highest quality you can afford – organic cotton or bamboo fiber mixture if possible.  Choose non-toxic laundry products with no artificial fragrances.  Avoid dryer sheets which are highly toxic.
Water: the source of all healing – make your bath soaking area as luxe as possible.  Replace broken or cracked tiles, re-grout if needed to have nice clean grout.  Update your sink and bath/shower area with modern faucet sets (These can cost as little as $50).  Install a shower head filter:  just as you wouldn't drink unfiltered water, nor should you expose yourself to unfiltered water in the shower – chlorine directly on your skin, day in and day out, is very toxic and can be the cause of serious allergies.  It also fades your hair color very fast, and leads to all kinds of itchy scalp conditions.  Protect your and your family's health by investing in the best filter you can afford.
Cleaning: Keep your bathroom super clean with all natural cleaning products (ex: Seventh Generation, Mrs. Meyer's, or Method).  Or use the time-tested and very effective combination of white vinegar and baking soda to scour, get rid of soap scum, disinfect and clear drains.  Check online to find directions and amounts.  Avoid toxic cleaning chemicals at all costs!!!
Scent: Use aromatherapy to set the mood – avoid artificial fragrance, as it is highly toxic with many bad side effects.  Use only pure essential oil candles (vegetable wax is preferable to soy which has high GMO and pesticide residues; paraffin is a petroleum by-product), incense, and other scent sources.  Experiment with making your own potpourri out of dried flowers and herbs and set around your bathroom in pretty ceramic bowls. (avoid any container that is plastic – based).
Healing Soaks: For your "Calgon" moment use Dead Sea salts– along with fresh rosemary, lavender, and mint.  See below for some recipes using essential oils (which should be organic, if possible; source plain Dead Sea salts online very easily).  Dead Sea salts are chock full of 21 minerals including magnesium, calcium, sulphur, bromide, iodine, sodium, zinc and potassium. These essential minerals naturally occur in our bodies but must be replenished, as they are lost throughout the day through sweating and the natural processes of elimination. These minerals are known to detoxify and cleanse our bodies.  Additionally, the minerals aid in metabolic functioning,  help calm the nervous system, and promote healing of skin tissues.
SPECIAL NOTE: Always keep the water temperature at lukewarm when using the salts – the purpose is for your body to absorb the healing minerals and if the water is super hot, your body will be flushing out in response, rather than absorbing their health benefits.
Sanctuary: Finally, and most importantly, use your spa time as sacred retreat time.  Meditate, do deep breathing, and most of all, visualize peace and rejuvenation.  You deserve them!
Soaking Recipes:
For calming:
For sore aches & pains:
Eucalyptus
Juniper
Cypress
Clary Sage
For tiredness or to  reinvigorate:
Rosemary
Peppermint
Grapefruit
You can pre-mix the salts with the oils by using a ration of about 4 -5 big drops  to each cup of the salts to start.   If you'd like more scent, then sprinkle of few drops directly into the bathwater, but never directly onto your skin.   Measure out a generous handful of salts (about 2 ounces)  into a full bath.   It's better not to mix the salts with any other bath product if you can help it.  You want the full effect of the salts and scent to do their work unadulterated, rather than compete with a soap or cleanser, no matter how pure they might be.