Berry Berry Good!
Strawberries have been around more than 2000 years; records show that they were prized in ancient Rome for their medicinal uses. Strawberries are recognized as having more vitamin C than some citrus fruits.  They are also high in fiber, folate, potassium, phytonutrients and antioxidants.   These antioxidant properties are what is believed to make the strawberry bright red.
Here are a few of my favorite ways to showcase this fabulous fruit.
Strawberry Surprise Smoothie
Strawberries start coming into their own by late Spring, Early Summer.  The ripest  make some incredibly delicious smoothies.  This one includes the hidden "surprise" nutrition from almond butter and flax oil, which also give the smoothie a rich, velvety texture.  Add the extra yogurt component for extra fruit flavor and a milkshake-like quality.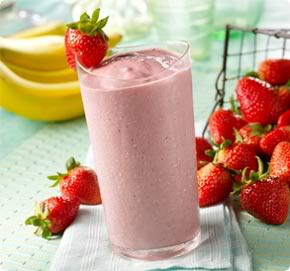 Ingredients:
1 cup sliced strawberries
1 small banana
1-2 tablespoons almond butter
1 tablespoon flax oil
1 cup hemp, coconut, soy, or rice milk
½ cup non-dairy strawberry, coconut, or banana yogurt (optional)
Blend all ingredients in blender until smooth and pourable.  Add more milk for a thinner consistency.
Strawberry Rhubarb Crunch
In Traditional Chinese Medicine, rhubarb's vitamins and natural compounds are used for their powers to cleanse the body of toxins.  Eaten raw, the sour nature of the rhubarb stimulates the saliva glands which stimulate bile production and liver detoxing.  Even though rhubarb is considered a vegetable, it is most often treated as a fruit.  Oddly, the leaves are poisonous, but the stalks are packed with antioxidants, fiber, and calcium.
This deceptively simple compote has a hidden element of fresh rosemary.  This dish captures the classic combo of sweet and tart, and sets it off with oaty goodness.   Dessert:  not just for breakfast anymore!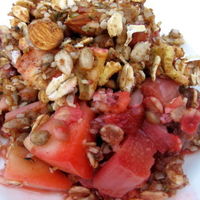 Ingredients:
2 cups of diced rhubarb stalks, leaves removed (save them for compost )
2 cups of sliced strawberries, hulled and trimmed
½  cup honey or 3 Tbs. agave nectar
1 tablespoon fresh rosemary, chopped
½ cup uncooked oats
½ cup raw almonds
3 dried dates, pitted
½ tsp. cinnamon
Pinch salt
Combine the rhubarb, strawberries, honey, and rosemary in a pot and cook over low heat until the fruit is very soft.   Transfer to a tightly sealed container and refrigerate overnight or at least 6 hours to allow the honey and rosemary to infuse the fruit properly.
When ready to eat, put the fruit compote in a bowl (either still cold or warmed up again over low heat).  Put the almonds into a food processor or blender and chop into small bits, but stop before they turn to powder.  Add the rest of the ingredients and pulse just enough to create a course blend.  Spoon the oat and nut topping over the compote.
For a breakfast dish, you can prepare the oats as oatmeal according to the package directions, and add the almonds, dates and cinnamon as the oats cook.   Put the hot oatmeal mixture in a bowl and add the warm or cold compote to it, along with your choice of non-dairy "milk" beverage.
Kale Strawberry Salad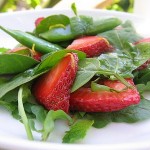 This is a staple salad in my household.   It can hold up to many varieties of substitutions throughout the seasons.  The idea is to combine chewy greens with crunchy toasted nuts or seeds, soft fruit of some kind, and sweet with tart for an elegant and healthy dish.
Ingredients:
1 large bunch kale, stems removed and torn into bite-sized pieces
1 cup arugula or spinach
1/2 cup toasted pine nuts, slivered almonds, pepitas, or pecans
1/2 cup fresh strawberries, (for other seasons, cherry tomatoes, dried cherries or fresh mango)
(Optional: 1/2 cup red onion, very thinly sliced)
Olive oil/balsamic vinegar dressing to taste
Salt and pepper to taste
In a large bowl, toss to combine all ingredients well.
How To Be Very Good To Your Berries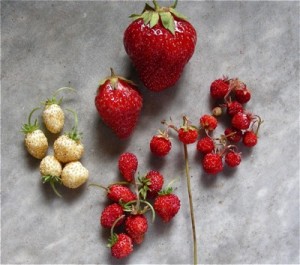 A couple tips for prolonging your beautiful strawberries once you bring them home:
Don't wash them until just before eating as moisture facilitates the growth of mold
If they're packed tightly in their box they'll spoil faster, so transfer them to a container with  more space to slow down the spoiling
Though they'll have far more flavor at room temperature, if you won't be eating them for a day or so, store them in the fridge.  When you take them out, run very warm water over them to quickly bring out the flavor