Green Holiday Tips: Part One
Green Holiday Tips: Eco Toys
Facts: In 2007, more than 17 million toys in the US were recalled because of lead paint violations, including 2 million toys from Mattel, the largest and most recognizable toy company in the world, makers of the venerable Ken and Barbie dolls.   About 80,000 chemicals are used in manufacturing, many of them in toys; the US Consumer Product Safety Commission regulates only 14 chemicals found in toys.  Toy companies are not required to divulge what's in their products.  Toys with batteries contribute to the more than 14 billion toxic batteries going into our landfills each year—enough to reach the moon and back.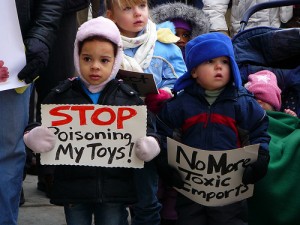 Tips: Let your child provide the power and imagination for his play by selecting toys that do not require batteries.   Avoid buying costume
jewelry for kids.  Cadmium (a neurotoxin and carcinogen) is increasingly used as a lead substitute in paint, toys, and jewelry.  Avoid vinyl products, also known as PVC (polyvinyl chloride) as they are several times more likely to contain hazardous additives than other plastics (your first indicator of this chemical is a distinct "plastic" smell).  When buying toys that contain textiles (i.e. plushies, doll clothing), be conscious of "azo dyes" which are cancer-causing compounds when inhaled or absorbed through the skin.  The best way to avoid them is to select toys made of wood and natural products (organic cotton, wool, linen, etc.).
Here are some websites to visit to help sort through toy safety issues, as well as sources for purchase of eco-friendly  toys:
Healthystuff.org does independent testing on toys and has screened more than 5,000.  It ranks products based on about 10 priority chemicals.
GoodGuide.com ranks products based on health effects, and has a large section devoted to toys.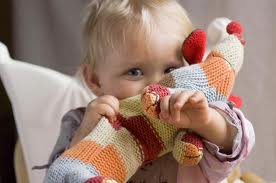 USPIRG.org,  a consumer-advocacy organization (Public Interest Research Group) has its 25th annual survey of toy safety on its website, as well as a smart phone app to help consumers make wise toy choices.
The Eco-Toy Alliance (ecotoyalliance.com) is a partnership of 4 companies dedicated to making Earth-friendly toys, and to using non-toxic natural materials.
Oeko-Tex is a European eco-label for toys (the EU has stricter regulations on toxic chemicals in toys than the US).  Toys with an Oeko-Tex label can be found all over the web from Amazon to Wal-Mart.
Hearthsong.com is a toy company with a sound environmental policy, dedicated to providing a selection of quality toys, games and crafts to inspire creativity and imagination in children.
Finally:  A third-party environmental certification group called Eco-Logo will provide eco-labels for toys based on the health and sustainability of the products used to manufacture those toys.  Toys bearing the eco-label should begin showing up on shelves for this shopping season.