Savor Citrus Season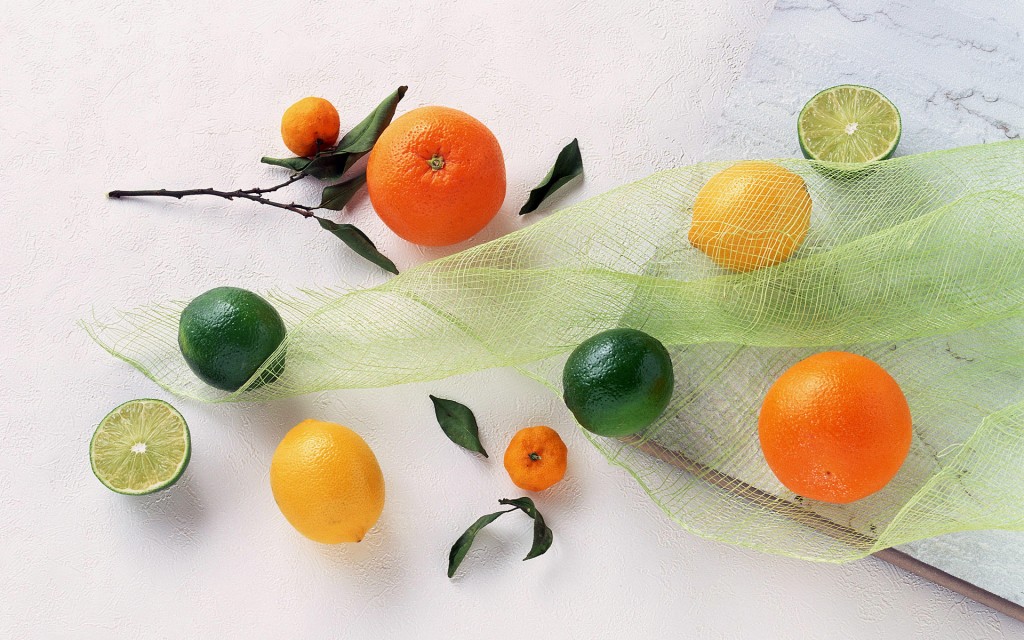 Mother Nature was surely looking out for us by offering up to us in the coldest, dreariest time of year, the fruits I like to call "sunshine in the palm of your hand".
Citrus fruits come ripe in the dead of winter and we crave their lively, sunny flavors during the time of year when it seems as though we'll never completely defrost our fingers and toes.  Limes, lemons, grapefruit, oranges, tangerines and all their hybrid cousins from tangelos to pomelos and Meyer lemons, are abundant in stores now.
Here are some interesting citrus facts:
Citrus fruit is believed to be native to Southeast Asia. The Greeks and Romans were early cultivators of citron, a sour citrus fruit. Columbus brought orange, lemon and citron seeds on his second voyage to the Caribbean.
Except for Key limes, which come from South Florida, almost all limes sold in the United States come from Mexico.
The word "ascorbic," from ascorbic acid (vitamin C), means "no scurvy."
Citrus is loaded with vitamin C (also known as ascorbic acid). In fact, one orange or lemon provides more than a full day's supply of vitamin C! Vitamin C is one of the most powerful antioxidants acting as a scavenger to neutralize harmful elements naturally occurring within the body and helps fight cell and tissue damage that could lead to disease.
Vitamin C also helps the body fight infection and may reduce risk of diseases, such as cancer. In fact, one report shows that people with low vitamin C intake (less than 50 mg/day) appeared to have approximately twice the cancer risk, compared to people with higher (greater than 100 mg/day) vitamin C intake.
Vitamin C makes a body grow! It helps babies grow and build strong bones and teeth. And, it helps the expecting mom's body absorb iron.
Citrus fruit contains fiber, which can help lower cholesterol and assist with digestion and elimination.
Pink and Ruby Red grapefruit contain lycopene, which has been associated with decreasing the risk of ovarian cancer and prostate cancer. As an antioxidant, lycopene also has been linked to reducing risk of heart disease, the number one killer of women today.
Citrus naturally contains more than 60 phytonutrients, many of them known as flavonoids, a class of natural antioxidants that many scientists believe may help the body in its battle against aging, allergies, infection, cancer, ulcers and heart disease4.
Eating a piece of citrus fruitdaily can help metabolize the food you eat into energy your body can use.
Though I never met a citrus fruit I didn't love, my passion runs deep for those hybrids of lemons and mandarins:  Meyer Lemons.  Their perfect oval shape, like a sunshiny egg, is gorgeous to behold.  Their thin skin and extra juiciness as well as sweet tart flavor is unparalleled.   And don't get me started on their bright, yet delicate lemony smell.  Heaven!
I have a prodigious dwarf Meyer in my backyard and right now there must be at least 100 lemons on that thing.  I am in constant search for uses, and have come up with recipes for baking cookies, making marmalade and chutney, as well as lemon sauces for every kind of dish under the sun.
Here are one of my favorites, simply because it captures the golden essence of a Meyer lemon, but also because it's well….so simple.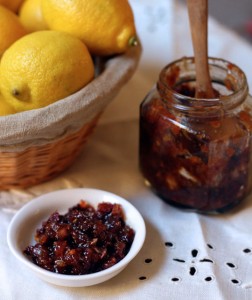 Meyer Lemon Chutney
(makes about 1 ½  cups)
8 lemons
2 tsps coarse salt
2 Tbsps extra  virgin olive oil
2 shallots, minced (about 2/3 cup)
1/2 teaspoon chili flakes
1 tsps grated fresh ginger
1 tsps ground coriander
Generous pinch cloves
½  cup lightly packed brown sugar
1/3 – ½  cup red wine vinegar
4 Tbsps fresh lemon juice
1/2 cup dried unsweetened sour (also labeled "tart") cherries or raisins, roughly chopped
Zest the lemons, avoiding the pith (white part). Pick out any seeds. Roughly chop the flesh. Transfer the zest and the flesh to a glass or ceramic bowl and combine with the salt. Set aside for at least an hour.
In a small sauce pan, heat the oil over medium low heat and add the shallot and chili flakes and sauté until softened, about 3 minutes. Add the ginger, coriander, and cloves and cook for 1 to 2 minutes. Add the salted lemon mixture and cook for another minute. Pour in the sugar, vinegar and lemon juice. Bring the mixture to a boil then immediately lower the heat so that the mixture is barely simmering. Stir and cook gently for about 30-40 minutes, stirring in the cherries after about 20 minutes. The mixture is done when it has thickened almost to the consistency of jam.
Let the mixture cool, then spoon into a sterile 6-ounce jar to keep in the refrigerator for up to a month.