Winter Wellness Recipe – Roasted Winter Root Vegetables
This winter wellness recipe features the kicky taste of Meyer lemons (actually a cross between an orange and a lemon,) whose arrival in the markets presages the coming of Spring and gives us the hope that Winter will be over very soon. The jazzy jolt of lemon elevatesthe sturdy workmanlike quality of the root veggies – the very essence of Winter.  Together they bridge the two seasons perfectly and give a light touch to an otherwise heavy food group.
These wonderful simple veggies will help you stay healthy in the winter.  Carrots are an excellent way to get lots of antioxidants and vitamin A into your body. These aspects will help you protect your body against cardiovascular disease and cancer.  Yams are  great for potassium as well. Beets help support a healthy liver, and garlic is a natural antibiotic – good for helping to fight off colds and flu.
Winter Wellness Recipe – Roasted Winter Root Vegetables
This recipe is versatile. Try other types of potatoes; add whole shallots or wedges of red onion, or substitute parsnips for the carrots.
Makes 4 servings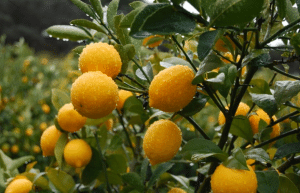 Cooking spray
1 pound small red potatoes, quartered
1/2 pound beets, cut into small chunks
1 pound carrots, cut into 2-inch pieces
1 head garlic, cloves separated and peeled
1 teaspoon dried thyme
Salt and freshly ground black pepper to taste
2 tablespoons olive oil
2 Meyer lemons
Fresh thyme for garnish (optional)
Preheat oven to 450 degrees. Coat a rimmed baking sheet with cooking spray. Add potatoes, carrots, garlic cloves, thyme and salt and pepper to taste. Drizzle with oil and toss well. Roast 15 minutes.
Meanwhile, trim the ends of the lemons so you can see the flesh and no white pith. Cut into thin slices, removing the seeds. Cut slices into half-circles.
After 15 minutes is up, remove baking sheet from the oven and toss the lemons with the vegetable mixture. Return to oven and roast until vegetables are tender, about 15 minutes more. Sprinkle with fresh thyme, if using, and serve.