Transition Into Spring Beauty
Here are three great homemade beauty recipes to make the transition from Winter into Spring.  They help to  get rid of  old, dry congested Winter skin and bring on new, smooth and clear Spring beauty.  Revel in their aromas, textures and smells.
Lemon, Olive oil and Dead Sea Salt Body Scrub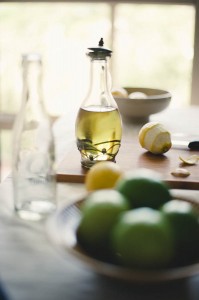 The ingredients in this recipe are excellent for getting rid of winter's effects on the skin.  It sloughs off old cells, and nourishes the new ones with the rich anti-oxidant properties of lemon and olive oil. The healing mineral content of the salts is absorbed into the deeper layers of the skin the more thoroughly you massage.  The lemon will perk you up and make you feel zesty all over.  The olive oil will moisturize your skin to a velvety smoothness.
You can find Dead Sea salts online from many sources.  They are not expensive and are one of the most versatile beauty products you can buy.  For this recipe you will want to get fine grain salts (as opposed to large grains which are good for water soaks).
Into a porcelain or ceramic bowl (avoid using metal mixing bowls with lemon juice), combine 2 cups of fine grain Dead Sea salts with 1/4 cup of fresh squeezed lemon juice and enough olive oil (start with a ¼ cup) to make the consistency of damp sand (the mixture should clump together when pressed gently between the thumb and forefinger).
Use your first two fingers to scoop out bits of the mixture and massage in circles on dry skin.  (Standing in your tub or shower is the best way to do this).  Use a back scrubber to help the process along in areas that are hard to reach.  Be generous with your scrub – use the whole amount and really take the time to rub it in, paying particular attention to elbows and bottoms of feet.  Rinse off with a warm shower.  Pat dry to leave remnants of the oil on your skin.
Strawberry Face Paste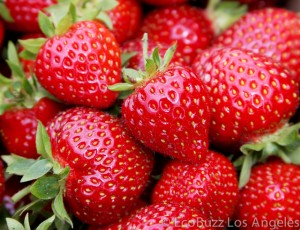 Frozen strawberries are excellent to use for this recipe since they release significant amounts of juice when thawed.Mash up ½ cup of the slightly warm strawberries to a pulp and stir in 1-2 tablespoons of cornstarch to form a smooth paste.  Apply the paste to your face and neck and allow to dry, 15 – 20 minutes. Rinse off with warm water.
Strawberries are a member of the rose family and contain salicylic acid (a key ingredient in over the counter and prescription acne medicines), which rids the skin of dead cells, allowing it to absorb moisture more efficiently.  Strawberries also have a mild bleaching effect on the skin and help prevent and heal blemishes.
Papaya Cuticle Rescue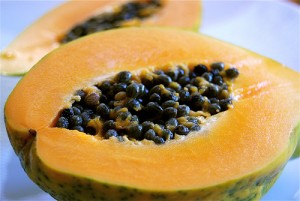 These ingredients all have natural softening and skin repair qualities.  Papaya has an enzyme that breaks down hard or dry skin.   Use this recipe on a cold winter day when you are longing for a cocktail and a lounge chair by a deep blue swimming pool.
Combine 2 Tbs. papaya juice with 2 Tbs. wheat germ oil in a blender and run it on high for 2 minutes.
Measure 2 Tbs. olive oil into a separate small dish, or "fingerbowl".  Soak each hand in the juice mixture for 5 minutes then rinse with warm water.  Then soak in the olive for 5 minutes.  Use an orange stick to push back your cuticles while soaking in the oil, as well as massaging it directly into the cuticle.