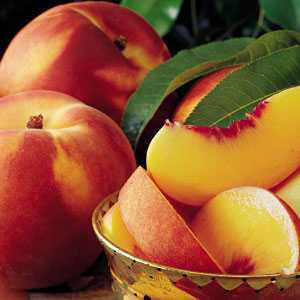 What is more quintessential about summer than a perfectly ripe, juicy peach?  It's almost peach season, so here a some healthy facts about peaches as well a few quick and easy recipes (for beauty as well as to eat) so you can get busy celebrating the glorious, wonderful peach.
Peaches are high in a number of nutrients your body needs such as niacin, thiamine, potassium and calcium. They are also high in beta carotene, an antioxidant that converts to Vitamin A, which is essential for healthy hearts and eyes. The darker the peach's color, the more Vitamin A it has in its pulp. The antioxidants may also help in maintaining healthy urinary and digestive functions.
Peach tea is known in Eastern cultures to be a kidney cleanser and is used in detoxification.   Traditional Chinese medicine dating from the 10th century has a saying "longevity peach", meaning the peach extended your life.   This kind of medicinal teas  isn't peach flavored tea, but a brew made from the pits.
Many people claim peaches are good for relief of stomach ulcers and other digestive issues like colitis and kidney disease. This may be due to their high fiber and potassium content.  (People who are sensitive to or on a low potassium diet should consult their physicians before adding peaches to their diet.)  Peaches are also a surprisingly good source of iron, that while not quite as much as a comparable serving of spinach, the iron in peaches is more readily absorbed than that in raw spinach.
Peaches are rich sources of skin-renewing alpha-hydroxy fruit acids which help to slough off dead cells, and vitamins A and C to nourish new ones, all of which help skin to look more vital.  Peach juice unclogs pores, banishes blemishes, lightens age spots, and reduces wrinkles, giving skin a fresher and more vital appearance.
Quick Peach Facial Treatment:
Just take a fresh, juicy peach, cut a slice from it, and rub the slice on your face.   Leave the juice on for 15 – 20 minutes, then rinse with warm water.
Anti-Aging Peach Mask
1/2 ripe peach, peeled and mashed
2 tablespoons plain yogurt
Mix ingredients and apply to face.  Lie down and rest with mixture on for 20 minutes, then rinse and pat dry.  The milk lipids in the yogurt aid in plumping skin cells and along with the peach, will help restore the glow to dull skin.
Peach Mango Smoothie
1/4  – 1/3 cup frozen peaches (cut up fresh peaches in small chunks, freeze for 24 hours)
1/4 cup mango
1 cup vanilla soy, almond, hemp, or coconut milk
Make sure the peaches are frozen, as this will give a better consistency to the smoothie, as well as make it cold without having to add ice.  Ice will make it more slushie-like, while omitting the ice will give it a creamier texture, like a milkshake.  The mango can be, but does not have to be frozen.    Blend and serve.  Top with a mint leaf.  Makes one serving.
Tomato and Peach Salad. Cut small cherry tomatoes in half or beefsteak tomatoes into 1-inch chunks and put in a mixing bowl. Add one or two peaches, peeled and cut into small chunks. Toss with a little bit of orange juice, sherry vinegar, and olive oil.  Add slivered red onions and torn basil or mint leaves, if you like.  Serve right away.
Peach/Blackberry Crumble
This is a very quick, simple way to showcase the fresh fruit that also happens to be vegan!  You can substitute the blackberries with any other kind of berry.  The arrowroot flour is found in the spice and baking sections of any good grocer – it acts as a thickening agent for the fruit's juices.
Filling
3 large peaches
1 1/2  – 2 cups blackberries
1/2 tsp minced ginger
1 tbsp maple syrup
1 tbsp honey
1 tbsp arrowroot flour
Crust:
1 1/4 cup rolled oats
1/3 cup sliced or slivered almonds
1/4 cup flour
1 tbsp maple syrup
1 tsp fresh squeezed lemon juice
3 tbsp unsweetened applesauce
1/2 tsp cinnamon
1/2 tsp vanilla
Pinch of salt
Mix filling together, spread out evenly in a shallow baking dish, a 12 inch pie plate will work great.  Mix crust together, if you add more applesauce/maple syrup it will be more crumbly, if you add less it will be more of a cobbler-type dish.    Spread crust onto fruit making sure to reach the outer edges and so very little fruit shows through.    Bake on 350 F for 40 minutes, then bake on 375 F for 10-20 extra minutes or until crust is somewhat golden (remember there is no butter so it won't be completely golden brown).
Serves 6.