Never thought you'd see those "vegan" and "football" side by side, did ya? Well, neither did I until I wrote them. But I've been thinking alot lately about autumn rituals (see previous posts). I grew up in Texas, where football is the ultimate fall ritual, and tv – watching parties are abundant and plentiful excuses for socializing and eating. Something about the cool crisp air of an autumn afternoon sliding into evening brings up these memories for me. Even though I've lived in Los Angeles for 20 years now and haven't watched a football game in almost as long, the urge to snack and hang with friends has never left me. Only now I seek out healthier food, and look for things to make from scratch that are easy, tasty, and will fly in a room full of picky eaters (re: children, adults with suspicions of anything "vegan" in the title). Here are a few delicious recipes to fulfill your own snacking urges and make bountiful use of fall fruits and veggies in the markets now. Go team!
Cheezy Kale Chips
I'd fallen in love with the commercial varieties of these unfortunately expensive grocery store snacks. My motivation in creating this recipe was to see if I could replicate them easily and save, like, $8 a pop.  Done.
Ingredients:
1 cup of raw cashews
½ large red bell pepper, seeded
Juice of 1 lemon
½ tsp. salt
1/2  – 3/4 tsp. red pepper flakes (or to taste)
¼ c. water
1 large bunch of curly kale
Preheat oven to 200 degrees.
Blend/puree everything except the kale in a food processor.   Drizzle water after the initial ¼ cup, as needed, to make the mixture have a consistency like a creamy tomato soup.
Wash the kale and tear the leaves into half dollar sized pieces. Place in a large bowl.
Pour cashew/red pepper mixture over the kale and toss with your hands until the kale is well coated on both sides.
Cover two large cookie sheets with parchment paper or grease lightly with olive or other oil, such as grapeseed or canola.
Arrange the kale on the cookie sheets so that none of the leaves are overlapping.
Place in the oven for 20 minutes, then use a spatula to flip over and re-arrange the bigger pieces that are still wet.
The idea is to slowly dry out the kale without burning it. This might take 30 minutes. Be patient!
Keep flipping the bigger pieces with the spatula until all of them are dried out and crispy to the touch.
Store in an airtight container.
Cheezy Cashew Dip
When I first started seeking out and experimenting with raw and vegan recipes, I was stunned by the ability of cashews to mimic cheese.  I soon discovered they are ubiquitous in this world. They can stand in for cream cheese in a cheesecake, for ricotta in a lasagna, for parmesan in a pesto. Genius!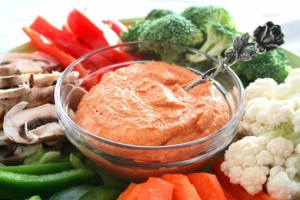 Ingredients:
• 1 cup raw cashews
• 4 oz pimentos
• 3/4 cup nutritional yeast flakes
• 2 tbsp tahini
• 1 tbsp lemon juice
• 1/2 tsp garlic powder
• 1 1/2 tsp onion powder
• 1/2 tsp paprika
• 1 tsp salt
• 1/4 cup unflavored non-dairy beverage "milk"  (rice, soy, almond are best choices)
• 1 tsp mild miso soybean paste
• 1 tsp dry mustard
Directions:
Grind your cashews in a coffee grinder first into a nice powder. Then dump them and every else into a food processor and blend into a creamy bright orange. Serve with your favorite dip chip, apple slice, or veggie stick. This cheeze dip will fool even the most die-hard dairy-lover.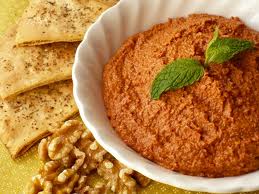 Muhamarra Spread
This is a quick and easy version of the traditional Middle-Eastern classic. Sometimes it's made with pomegranate seeds and or syrup, but I like this version which is less rich and more spicy. You can roast your red peppers yourself, but that adds a time factor that not many of us want to incur. We'd rather spend it chowing down, wouldn't we?
Ingredients:
1 7-8 oz. jar fire roasted red peppers
½ cup walnuts, toasted
½ cup hulled hemp seeds
2/3 cup cracker/bread crumbs (I pulsed some almond crackers in the food processor so this recipe would be gluten-free, but use whatever kind of cracker you prefer)
1 clove garlic
1 tsp ground cumin
1 tsp ground coriander
juice of 1 lemon
1 tbsp sriracha or other hot sauce (optional)
1 tbsp honey or maple syrup
2 tbsp oil (I used grapeseed, but extra virgin olive oil would be fab)
salt and pepper to taste
Directions:
Toast walnuts in a dry skillet on low heat on the stove. This should take about 5 minutes. Take care not to burn!
Place all ingredients, except the peppers, into a food processor. Pulse just a few times to break up the nuts a bit.
Drain the peppers, saving the juice or brine in the jar. Add the peppers to the nut and seed mixture in the food processor. Flip it to high until the mixture starts to form a smooth paste. Scrape down the sides once or twice with a spatula. Add the 2 tbsp oil, or 1 tbsp oil and 1 tbsp of the leftover pepper juice, and season with salt and pepper to your liking.
Pulse a few times to combine.   The texture should be like a thick, but spreadable peanut butter;  add pepper juice or oil to get to this consistency.
Serve with flatbreads, veggie sticks, crackers, on as a spread on sandwiches.