Drink Your Spring Health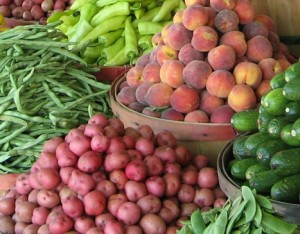 Here are two great smoothie recipes to aid in Spring cleansing and re-booting efforts.  Try to source fresh, organic produce at local farmer's markets if possible.   If you can make the smoothie and drink it within 15 – 20 minutes, you'll get a more beneficial result from the plant's nutrients than if you let it sit in the fridge for several hours.
Spring Veggie Smoothie
Wild ancestors of the carrot most likely came from Afghanistan, the center of diversity of the wild carrot.  Carrots support health liver, nails, skin and hair. The beta carotene in carrots cools the blood, noticeable as a cooling effect in the eyes, which can feel inflamed, itchy and irritated when the body releases fats during a cleansing effort.
Beets, Radish, and garlic cleanse the liver and gall bladder, organs and tissues that are working hard to breakdown stored fats, oils, and sugars.  The pigment that gives beets their bright color helps to neutralize the toxins from alcohol and balances blood chemistry.
Basil is a good source of vitamin A, which helps free radicals from oxidizing cholesterol in the blood stream, preventing the cholesterol from building up in the blood vessels.  Magnesium is also present in basil. This essential mineral helps the heart and blood vessels to relax, improving blood flow.
–       6 carrots (with tops if possible)
–       1 or 2 radishes
–       1 beet, cut into pieces
–       1 soft avocado
–       1 clove of fresh minced garlic
–       5 – 7  basil leaves
–       1/4 to ½ cup of fresh squeezed lemon juice + 1 lemon slice (to squeeze at end)
–       1 – 2 cups purified water (more for a thinner consistency)
Juice the carrots, beets, and radish through an extraction juicer first, if you have one.   Add this juice to the other ingredients in a blender.  Blend until smooth.  Squeeze an extra dash of lemon into the drink.
Strawberry Surprise Smoothie
Strawberries have been around more than 2000 years; records show that they were prized in ancient Rome for their medicinal uses. Strawberries are recognized as having more vitamin C than some citrus fruits.  They are also high in fiber, folate, potassium, phytonutrients and antioxidants.   These antioxidant properties are what is believed to make the strawberry bright red.
In warmer areas strawberries start coming into their own by mid to late spring. You can use these first berries to make some incredibly delicious smoothies.  This one includes the hidden "surprise" nutrition from almond butter and flax oil, which also give the smoothie a rich, velvety texture.  Add the extra yogurt component for extra fruit flavor and a milkshake-like quality.
–       1 cup sliced strawberries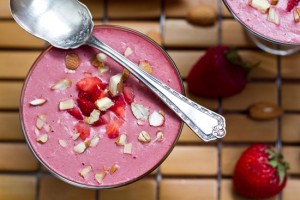 –       1 small banana
–       1-2 tablespoons almond butter
–       1 tablespoon flax oil
–       1 cup hemp, coconut, soy, almond or  rice milk
–       ½ cup non-dairy strawberry, coconut, or banana yogurt (optional)
Blend all ingredients in blender until smooth and pourable.  Add more milk for a thinner consistency.