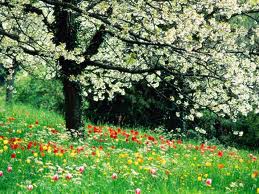 Springtime is an ideal time for getting outdoors and immersing yourself in the beauty of the season.  Take the time to notice your surroundings:  smell the smells, listen to the sounds, feel the changes in the air against your skin, see all the colors and textures of things in bloom.  It's a wonderful opportunity to engage in a commitment to being mindfully present in your life, one of the keys that opens the door to insight.
Thich Nhat Hanh, the Buddhist teacher and author, has a famous teaching about using walking for a specific kind of meditation exercise.  It emphasizes the rewards of walking slowly and precisely as a practice in mindfulness.
His instructions:
Stand on one foot, and be aware that it is resting upon the earth; see the great sphere upon which it rests.  See it clearly – how wonderfully round it is.  While walking, look down and anticipate the ground where you are about to place your foot, and when you do, mindfully experience your foot, the ground, and the connection between your foot and the ground.
Place your foot on the surface of the earth the way an emperor would place his seal on a royal decree.
A royal decree can bring happiness or misery to people.  It can shower grace on them or it can ruin their lives.  Your steps can do the same.  If your steps are peaceful, the world will have peace.  If you can take one peaceful step, you can take two.  You can take one hundred and eight peaceful steps.
108  is the number of beads on a mala, or Buddhist prayer "rosary".  Malas are used to count mantras, and a mantra is a sound, syllable, word, or group of words that are considered capable of creating spiritual transformation.
It's worth trying Hanh's exercise, as I think it certainly opens up a sacredness about walking that is good to have, not matter what pace or location your subsequent walks might take.  Here's another thing to do:  as a variation, set aside walking time for yourself, then pick any use of the number 108, and apply it to your regular walking efforts.  Some examples: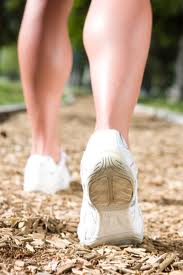 Walk 108 days in a row (a little over 3 months, or the length of one season in the year, more or less) at the same time every day:  1:08 pm.
OR
Walk at 1:08 pm for 108 minutes (one hour and 48 minutes)
OR
Walk 1.08 miles every day for 108 days
There is no right or wrong way, the intention should just be to remain in the present moment with your efforts, and stay open to outcome.  The beauty of taking a very simple thing like walking, and then doing it at precisely the same time every day, or walking for precisely the same amount  every day, is that it elevates it to another level.  Actually, just doing anything with intention for 108 days in a row, is a remarkable setup.  Engaging in a repetitive act, with discipline and focus, brings inevitable transformation.  Your relationship to the activity will greatly change, your ideas about what you are getting out of it will change, and the sheer dedication to achieving a goal for a specific time, a specific count of numbers, will always lead you to fresh insights.  Transformation comes with regular application.
It might also be worthwhile to keep a journal of your Spring 108 Walking Journeys.  Record and note your thoughts, observations, challenges and victories in keeping to your "108 Set".  Perhaps make notations or drawings of what you observe differently on each walk, as the landscape in springtime is certainly also undergoing transformation at the same time you are.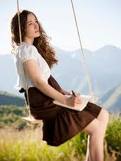 A word about journal writing:  don't be afraid of it or scorn it as something you might mistakenly believe to be unnecessary.  It doesn't have to be an exercise in precious navel gazing or the font to the wisdom of the ages.  There's no format you have to follow, no grade you're going to get in the school of self actualization.  Your entries can read like a grocery list or be rendered in stream-of-consciousness format without punctuation or structure.  The most practical thing about it is to help you remember your insights before they slip away.  Don't ever trust yourself to remember the important stuff – thinking that because you've flagged it in your mind as "important", that somehow you'll have the power of instant recall on down the road.  Nothing could be further from the truth.  At best you'll remember shards, mere fragments, of what you really crave to hold onto.  Your insights are fleeting, and are currency to spend later when you are in periods of self doubt, confusion, or angst.
Let Spring reign peacefully in every step.